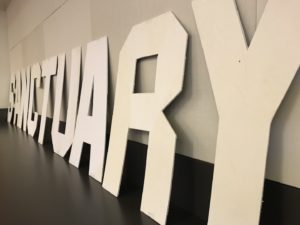 October 5, 2017
LOS ANGELES – About 300 people packed the basement auditorium of the Service Employees International Union building in Koreatown on Thursday to support a resolution that named L.A. a "city of sanctuary."
Labor leaders and activists from across the community came to the town hall style meeting to speak about why they want the city council to adopt an official sanctuary ordinance.
"Our position should be that all L.A. residents, all our residents, be treated with respect and dignity, period, because we are all woven into this community," Maria Elena Durazo, former executive secretary-treasurer of the Los Angeles County Federation of Labor and a state Senate seat candidate in the 2018 Senate District 24 election.
There's currently no law requiring L.A. to be a sanctuary city. Mayor Eric Garcetti signed Executive Directive 20 in March, requiring law enforcement officials to cooperate with federal agencies, such as Immigration and Customs Enforcement, if there's a federal warrant for a resident.
Critics of the directive say it doesn't go far enough, and participation by the sheriff's department and the Los Angeles Police Department is largely voluntary. They also point to a decrease in the number of crimes reported in communities populated by immigrants that fear deportation.
"With every inch you give to local police the authority to cooperate with ICE, a smaller and smaller percentage of immigrants will cooperate with local police to report serious crime," Peter Schey, president and executive director of the Center for Human Rights and Constitutional Law and the immigration and civil rights advocate for the City of Los Angeles told the audience.
"Just like the Trump Administration has created fear in the immigrant community, it has created fear among elected officials," he said. There's no substance behind it."
Schey said he submitted civil rights, sanctuary legislation to City Councilman Gil Cedillo and other councilors, which would effectively make L.A. an "ICE free-zone," if the council adopts it. Schey said he believes that law would be a model for the country.
The town hall happened to coincide with the signing of Senate Bill 54 by Governor Jerry Brown, which names California a "sanctuary state." Critics, like Schey, say that the ratio of exceptions to rules in the bill is overwhelmingly in favor of the federal immigration officials.
"I think it's an incredible victory," Cedillo said of SB 54. "We have to do all that we can to stabilize our communities, keep our communities safe. One of the best ways to do that is to make sure we don't have this terror of ICE collaborating with the police and sheriffs."
Cedillo's sanctuary resolution is primarily symbolic. He hopes the council will support actual legislation that would change the mayor's directive into actual law.
Garcetti has not made public whether he will support proposed the legislation and speakers at the meeting called for his stance on the issue.
Near the entrance to the auditorium, a table staffed by the event's organizers, members of Indivisible Highland Park, was stacked high with postcards, addressed to the mayor that were in favor of a pro-sanctuary ordinance. The postcards were filled out by many of those attending the town hall.
The Highland Park Indivisible volunteer said that the postcards would be delivered directly to Garcetti's office.