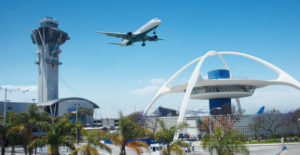 November 18, 2016
LOS ANGELES – Air traffic controllers at Los Angeles International Airport are undermanned, overworked and passenger safety is a constant concern. Responsible for incoming and outgoing aircraft while simultaneously managing every move of taxiing aircraft, a controller's job at busy hubs, like LAX, is not for the timid. Thousands of lives are at stake and there's zero room for error.
"When I first got there, it was like the wild west," says Mike Foote, a veteran controller who's worked in the LAX tower since 1997. "They just kind of shot-gunned stuff at you unlike, really, any other airport in the country." That kind of hectic air traffic, Foote added, caused a controller error that led to the 1991 crash of USAir 1493, which killed 32 people.
Though reforms have since been implemented and aircraft-flow into and out of LAX occurs in a more sustainable way, air traffic is up 7.53 percent from this time last year, but there are fewer certified controllers to manage the traffic. According to Foote, "[Controller] fatigue is a paramount issue."
Ranked as the seventh busiest airport in the world, almost 75 million passengers flew through LAX in 2015, totaling 655,564 landings and takeoffs.
With mandatory overtime shifts that are often 10 hours, the 37 certified controllers at LAX work an average of 40 to 60 hours a week depending on their scheduled rotations. Guidelines set by the Federal Aviation Administration put a fully staffed LAX tower at 49 controllers. Going into 2017, the tower will have 35.
"Critically understaffed," is how President of the National Air Traffic Controllers Association, Paul Rinaldi, characterized the situation before a House Aviation Subcommittee in June of this year. The hiring and training of controllers, which is done by the FAA, is at a 27-year low.
The Aviation Innovation, Reform and Reauthorization Act, signed by President Obama earlier this year, keeps FAA programs at their current levels of funding through September 2017. The bill also contained amendments to the FAAs hiring processes, making it easier for the agency to address staffing shortages. The bill's passage prompted a pledge by the FAA to hire 1,600 new controllers in 2016.
Ian Gregor, Public Affairs Manager for the FAAs western-pacific region, writes via email, "We are looking to continually hire new controllers so staffing in 2025 is slightly higher than it is today." Gregor notes the recently published Controller Workforce Plan, which projects 7,400 new hires over the next five years.
The FAAs plan, though, has received harsh criticism from union officials for a number of reasons. Nearly 3,000 controllers are eligible for retirement this year alone, according to a NATCA report. Also, the washout rate at the FAA Academy in Oklahoma is around 34 percent, which means out of the 1,600 pledged hires this year, little more than 1,000 controllers will graduate into the workforce where they then have to train and certify at individual airports.
"Our certification rate is less than 50 percent at LAX and that's controllers that are coming to us with experience, not people off the street that don't have any skills built up," says Foote.
Even with the tower's training program, which includes on-the-job simulations and education, runway and air traffic – made worse by aging infrastructure and near constant construction – is intense and difficult to grasp. Add exhaustive hours and fatigue to the mix and the job, says Foote, takes a toll on your life.
In 2009, the FAA participated in an inter-agency study with the National Aeronautics and Space Administration to examine controller fatigue. NASA found that "70 percent of survey respondents who work midnight shifts caught themselves 'about to doze off' while actively working,'" and that out of 18 percent of participating controllers "involved in operational errors, deviation or proximity events within the last year," 56 percent blamed the mistakes on fatigue.
The report, delivered in 2012, was rejected by the FAA in a 2014 memorandum prepared by the Fatigue Risk Management Office. While the FAA "leveraged some of the NASA findings to develop fatigue mitigation," it cited concerns that NASAs approach to the study was too academic and "contained judgmental rather than quantitative results – often based on sourcing opinion versus science."
Controllers at LAX have so far maintained an impressive safety record, which, says Foote, he's proud of. But he admits there's no short-term fix for fatigue other than finding, training and hiring controllers that can cope with the unique and intense demands of working at LAX.
"It's a difficult facility, traffic's hard. That's true. Complexity is high. That's true. But I think part of it is also it's 11:30 at night and it's the busiest part of the day. You're thinking to yourself, 'Hey, if I was at John Wayne [Airport], I'd be driving home right now. Instead, I'm getting beat with a stick.'"