February 14, 2017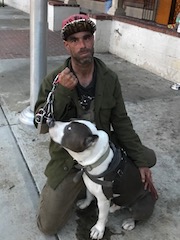 NORTH HOLLYWOOD, Calif. – There's been a national romance with hopping freight trains, crisscrossing the country and watching the American landscape unfold live and in person since the Great Depression.
Even 60 years later, it evokes treasured national ideals like freedom, liberty and, of course, cheap travel. There's also the added edge of being a wayward scamp…you know, in the way George Washington was to England. America loves a well-meaning scofflaw.
Even though times have changed, there are still those who choose, either by necessity or a bold sense of adventure, to brave the elements, as well as the law, in an attempt to travel the county. One of those "travelers," as he refers to himself, is a fellow that goes by the name Twist and his companion, Hobo.
Born in Franklin Parish, Louisiana, the 47-year-old confesses to riding the rails and being a traveler since the age of 15. Los Angeles is a temporary layover, until his brother gets off parole, which, according to Twist, should be sometime sooner or later.
While he waits for his brother, he and Hobo live in a tent on a sliver of land between the Hollywood Freeway and the rear of North Hollywood Park.
"I'm a bayou boy. I learned right off the bat how to survive the elements, even as a kid," Twist says. Asked if he worries about his safety, he shrugs. "Where I come from, paranoid is just a fancy word for not dead yet. I've been fighting my whole life. I don't give a s—."
Despite appearances and the rough living conditions, Twist and Hobo are an affable duo. Well-fed and friendly, Hobo's "rolled" with Twist for more than two years and, Twist adds, his dog is more companion than security. "He eats before me. I make sure of it."
With all of his experience as a traveler, Twist was happy to share his wisdom and insight on riding the rails.
Here are Twist's six rules for new travelers:
"Learn what's what around you. In other words, be respectful of others, one way or another. If someone comes up on me and they're being disrespectful, they're going to get it back."
"Always know where your key needs are. Find your place, out of the way. You don't sleep on Hollywood Boulevard. You don't sleep in doorways. You don't sleep in places where you see 30 or 40 other people sleeping. Community don't work. Stay out of sight because the less you're seen, the less you're f—-d with, especially in L.A."
"Have a backup hustle. Never count on any one thing because s— can fail on you. I have 50 signs. I can fly them all in one day and not make a penny because it's just not a good day for that. If you're counting on that one thing, you're going to have to learn to do without and that sucks."
"Never cross a bull in Texas or Oklahoma, because they'll kill you there. They won't beat you and have you arrested, they'll flat-out kill you. They don't like you riding their trains."
"Find a way of passing the time. I don't care if it's smoking a joint, drinking or talking to an Indian that looks like he's 400 years old for 3,900 miles – true story, I did that – just pass the time. Don't get me wrong, sitting on top of a grainer-car, going through the Appalachian Mountains, you see s— no one, except train hoppers and drivers see. It's amazing, but it ain't always that."
"Pay attention to what's right and what ain't, especially on the rails. If you want to travel, never, ever, ever travel without some kind of persuader. This is what they call a 'smiley' (chain with padlocks for protection). This one is custom; it has three locks on it. You swing that on somebody and they'll get out of your way real quick."
Twist's rules were edited for length.