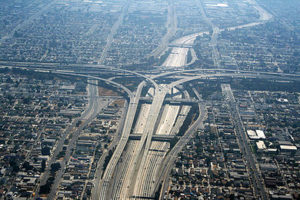 September 3, 2016
STUDIO CITY, Calif. – Freelance photographer and writer, Allen Nalasco, walks in the dim, early morning hours to make his Thursday shift as an assistant manager of a neighborhood sporting goods chain.
The job isn't great, admits the 43-year-old, but it's a short mile walk from the three bedroom apartment he shares with his wife and a roommate. After an increase in their rent, Nalasco pared expenses down by donating his car to charity. The store's proximity, coupled with his dwindling savings and a long, fruitless job search, is why he opted for the position.
"These days, people in Los Angeles making $20 an hour are still poor," says Nalasco.
While the latest jobs report by the U.S. Bureau of Labor Statistics shows California's unemployment rate falling to 6.1 percent in August, from 6.2 percent in July, with an additional 36,200 nonfarm payroll jobs created, growth has mainly been in high and low wage sectors.
This lack of middle-waged jobs is pushing many college educated workers, like Nalasco, who holds two bachelor's degrees, into lower income positions, at a time when California is seeing record-high rents. As a result, a middle-class lifestyle is difficult to achieve even as the state's economy grows.
In August, lower income industries, which often offer only part-time or minimum wage employment, did see growth. Retail and trade added 6,100 jobs. Leisure and hospitality gained 10,600. In contrast, professional and business services, historically middle-wage fields, lost 11,200 and manufacturing dropped 7,100 positions.
"The California economy has done fine without middle-wage jobs," says Stephen Levy, director of the Center for Continuing Study of the California Economy. "The implications are more on people."
At least one of these implications is a low-income earner's ability to afford the soaring costs of housing. The average apartment in Los Angeles County rents for $1,716 a month, according to USC's 2014 Casden Multifamily Forecast. For that to be considered affordable, the report states that a person needs to make $33 an hour, nearly $69,000 a year.
Tracey Grose, Vice President of the Bay Area Economic Institute, points out that a consequence of broad-based economic growth, where higher-wage earners move to the city to be near work, is a housing shortage. In turn, this fuels the increase in rents.
"People who can't afford the rise in rent are pushed outside the economic core, having to travel longer to get to work," says Grose, "and if they're earning a low wage, they have to decide if it makes sense to spend the money on transit."
At a bar near his workplace, Nalasco sips on a pint of craft beer after his shift, and says he applied for higher paying jobs in marketing, analytics and customer service before striking out and taking his current low-wage retail position. He added that landing the job was a mix of emotions. "Really…the sense of security I got was medically, I'm taken care of."
For the time being, he and his wife have decided to stay in L.A. because of the greater opportunity for freelance photography and writing work. Regarding the future, Nalasco said, "I don't know, man. There's the reality of paychecks versus the reality of freelance [work]," before changing the subject to the price of real estate in Atlanta.